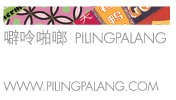 Bing Design is the design company behind the award-winning Pilingpalang homewares brand. Founded in 2009 by Deng Bing Bing, Pilingpalang' s products are handcrafted by skilled craftsmen working in the ancient Chinese techniques of ceramic, cloisonné and lacquer, as well as the Pilingpalang Paper collection of greeting cards.
Designs are inspired by the symbolism of ancient Chinese culture and infused with contemporary influences from around the world.
Traditional shapes and patterns are given a contemporary spin with fresh design inspirations and contemporary colors, creating an eye-catching twist on tradition.
For more on Pilingpalang and to see the range of products, please click the website.
兵设计是获奖家居品牌噼呤啪啷的幕后英雄。邓兵兵于2009年创立噼呤啪啷。品牌的产品均由技艺娴熟的工匠用古老的技法亲手制作而成,现有瓷器、景泰蓝和漆器系列以及噼呤啪啷同名系列的包装纸及贺卡等产品。
产品设计的灵感来自于古老的中国文化,传统的图腾配以鲜艳的现代色彩,结合来自世界各地的当代设计元素,让传统文化顿时充满活力。
更多关于噼呤啪啷品牌的内容及产品系列,请点击上面的网址。